Choosing a traineeship? Check out these 10 things!
A traineeship is a great start to your career: you gain a lot of work experience quickly and develop your talent at lightning speed. 🚀 But there are so many! How do you make sure you're selecting the right traineeship? With this checklist, you can be sure you are making the right choice.
Starter position or traineeship?
You're almost done with your studies, and you've got a tough choice to make. Will you go for the starter position jobs, or will you choose a traineeship instead?  Before you decide, knowing the difference between the two is good. 
The most important differentiator between a starter position and a traineeship is a combination of working and learning. In a starter position, you'll start working independently quickly, whereas a traineeship gives you much more guidance and training – pretty nice when you've just graduated. There are many more advantages of following a traineeship, but in the image to the right you can see the most important differences between a traineeship and a starter position.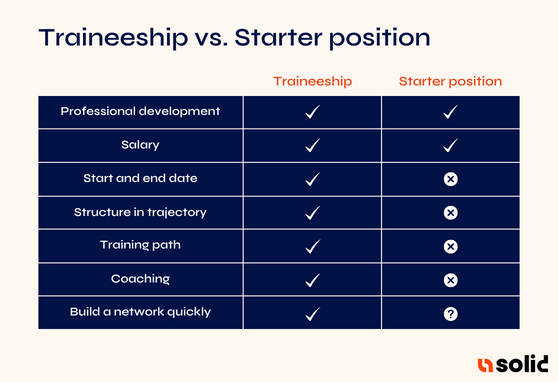 Types of traineeships
Countless organisations offer multiple different traineeships. So, before you choose one, it is a good idea to know what they entail. Check out the following points you should be aware of.
1. Level of education
Traineeships are available at all educational levels. In general, there are more for university graduates, but more and more companies are also offering traineeships at the vocational level. In addition, there are traineeships, especially for people with experience who would rather switch to another field of work.
2. Entry requirements
Depending on the type of organisation, you can face certain entry requirements. Sometimes, you'll need a bachelor's or master's diploma, and occasionally, you'll need a high GPA. Before you apply to any traineeship, you might want to check potential entry requirements to increase your chances of getting the job.
3. Application process
Applying for a traineeship can differ per employer. One might want you to send in your resume, whilst another might expect a letter of motivation too. In addition, you might see significant differences in the number of interviewing rounds you have to complete. Other organisations want to test your skills and will ask you to do a test assignment. So prepare yourself! The vacancy for the traineeship should have a detailed explanation of how the registration procedure works.
4. The duration of a traineeship
Some traineeships only last three months, others last six months, and some can last up to 2 years. Organisations often offer the option to extend. This allows you to continue with the supervision of the traineeship. Already have your eye on a traineeship? Ask the company for the expected end date and the terms and conditions.
5. Orientation versus specialisation
Before you choose your traineeship, make sure you know whether you want to focus on orientation or specialisation. Some traineeships allow you to work in different departments and on various assignments. That will enable you to orient yourself: you gain broad work experience, and after your traineeship, you can decide which department or direction you like best. With a specialist traineeship, you decide on a direction first, and you're then trained to become a specialist in that field.
Which type of traineeship suits you best depends on your wishes. Do you still need to figure out what you want? Then it might be better to select a traineeship that helps you orient yourself in different departments. Do you already have a clear preference or talent that you want to (further) develop? Go for the specialised traineeship!
6. Training opportunities
Each traineeship is a combination of working and learning. But the exact setup can vary a bit. There are some traineeships where you get full-time training during the first two months and get started at work afterwards. However, other traineeships allow you to start working immediately and update your knowledge with monthly training courses. And occasionally, it is even more flexible. And occasionally, it is even more flexible. You decide when and what you spend your own training budget on.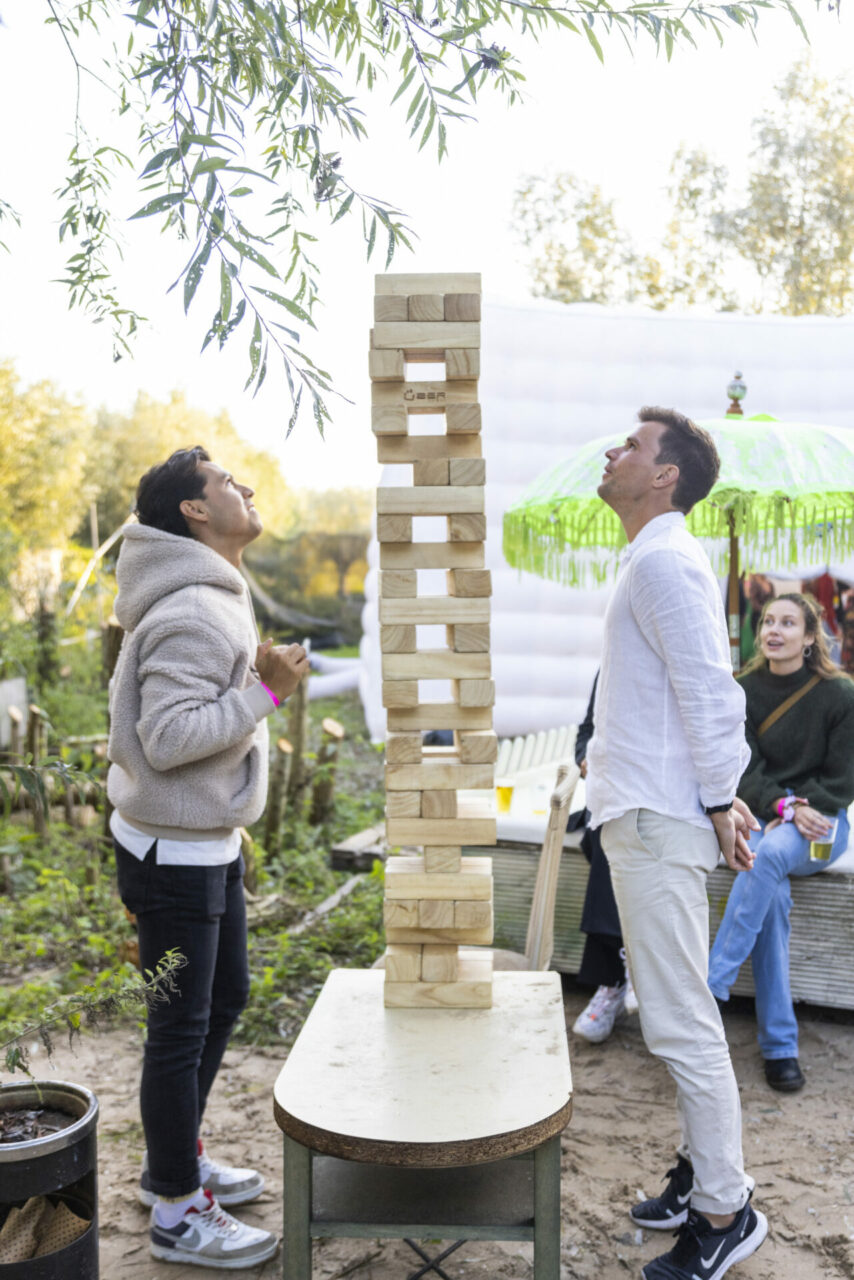 "At the beginning of your career, you have a lot going on. That's why having a talent manager who is a bit more distanced from the situation is great."
– Yoran, Business Analyst (Traineeship Data)
7. Coaching
During your traineeship, you'll receive guidance and advice from a coach.  They'll help you out with both personal and professional development. There are plenty of different options when it comes to types of coaching. During some traineeships, your team manager also acts as your coach. But a lot of organisations can't coach you in full capacity. That is why many companies use third parties for this, such as Solid Professionals. Our talent managers coach young professionals who work for our clients. Talent manager, also known as field manager, people manager or talent advisor, whatever the name is, their goals is the same: to be there for you during your traineeship.
8. The salary
Some traineeships pay better than others. The amount of the salary depends mainly on the level of education, and the sector the traineeship resides in. The average monthly wage for a traineeship is €2.539,-, based on a 40-hour week. Young professionals at Solid Professionals have a starting salary of between €3.111,- and €3.277,-, based on 40 hours.
9. Secondary employment conditions
Don't forget about the secondary terms of employment. These differ per company, so check which conditions are favourable per traineeship. For example, pay attention to the following:
Are your travel expenses reimbursed?

How much pension are you building up?

How many days off do you get?

Is there a bonus scheme, do you get a thirteenth month, or other financial extras?

Do you get a lease car, or is there a bicycle scheme?

Can you (partially) work from home?

Are the working hours flexible?

Does your employer pay (part of) your health insurance?

Will you get a laptop or phone from the company?

And remember to check out the fun extras, such as a sports subscription, a healthy lunch and cool company outings.
10. Career development opportunities
After most traineeships, you'll continue to further your career. Check in advance with the organisation or recruiter which career opportunities you have after completing your traineeship. For example, which departments and which functions can you work towards? What does your possible career path look like? With this information, you have a clear picture of the future, and you can make a well-considered choice.
A traineeship via Solid Professionals
With our traineeships in Finance, Risk, Data, & IT, you'll start working for a bank, pension fund or insurer immediately. Check out our traineeships for more info!
Traineeships