Trend analysis: from a tight labour market to a multicultural one
The number of internationals joining the Dutch workforce has skyrocketed, with a growth that was kickstarted during the Covid-19 pandemic. And this upward trend is one that won't be fading soon. More and more companies can't fill their vacancies without expat help. Thankfully, the Netherlands is a popular destination for international job seekers. Sabine, company director here at Solid Professionals, has seen this trend play out in real-time with our customers. In this blog, she shares her experiences.
A tight labour market
"We're seeing that our customers have more international employees working in their teams than they did three years ago. Accelerated internationalisation is taking place, especially at companies where English was already the main language,' says Sabine. "The tight labour market explains the increase of international recruitment in the Netherlands. Something that we have been dealing with since the pandemic."
A recent study by Indeed confirms it: 57% of the surveyed Dutch companies indicated that labour shortage is their main reason for hiring foreign workers. And although the labour market is less tight than earlier this year, the number of open jobs still increased during the third quarter of 2022.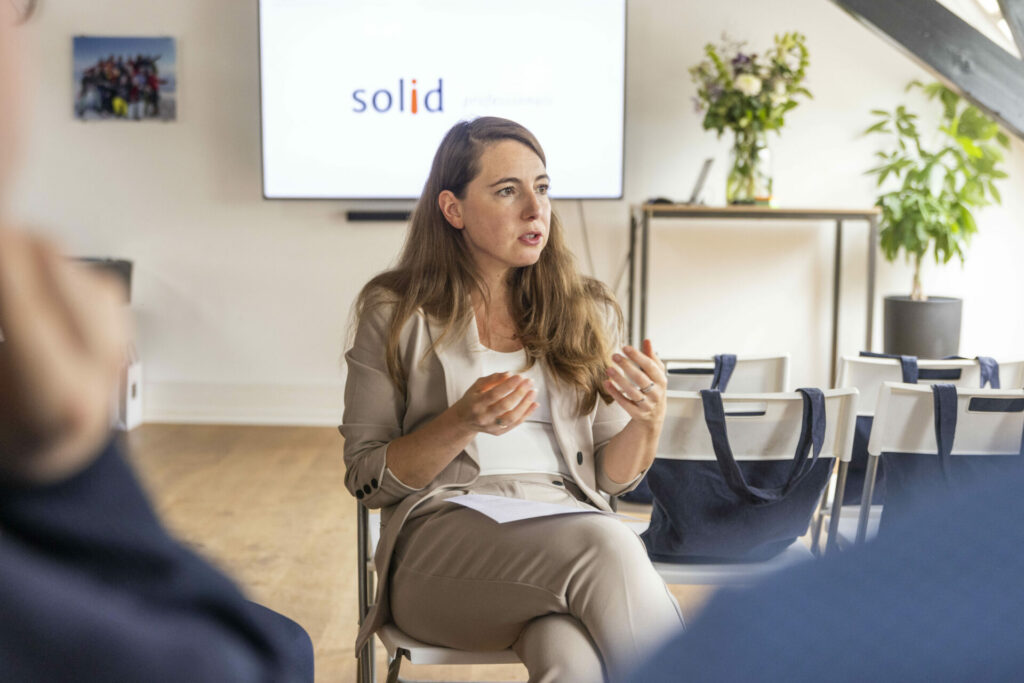 Even the most traditional companies are changing
"There is a difference between large international companies and local business owners," Sabine continues. 'English is already spoken at most major banks because they operate internationally and are under European supervision. But there are also many organisations in the financial sector that focus on the Dutch market, where a Dutch corporate culture prevails, and the working language is Dutch. They aren't equipped for the arrival of expats just yet. Many of their employees still find sending emails or having meetings in English quite daunting." According to Sabine, it's a logical consequence that these organisations don't attract people who primarily speak English or who enjoy working in an international work environment. "They prefer to go to the international companies in Amsterdam."
Nevertheless, these organisations realise their local focus isn't sustainable in the current labour environment. Even they must seek new talent across Dutch borders.
'Ever since the pandemic, Dutch companies have been more open to the idea,' Sabine says. 'It used to be quite important that employees spoke Dutch to boost social interaction in the office. However, since hybrid working has become the norm, this has become increasingly less important. Colleagues no longer chat with each other at the water cooler but just do their thing from home.
Trend evolution throughout the years
According to Sabine, several factors contribute to the rise of internationalisation. "Trends aren't usually a coincidence but rather a product of the zeitgeist," she explains. "For example, the zeroes were the heyday of outsourcing. However, many companies have since reverted from this because of its inefficiency. Despite the low wages, it is ultimately not cheaper."
"In addition to the current zeitgeist, several things are now converging. Such as the shortage in the labour market mentioned earlier and the more widely visible internationalisation of our society. Daily life in the Netherlands is "anglicising", and the importance of diversity is growing. Due to these changes, a diverse, more inclusive workplace is becoming increasingly important. Moreover, scientific research repeatedly shows that teams perform better when they consist of people from different backgrounds."
Challenges
"The arrival of international employees is often accompanied by new organisational challenges; this starts before the employee has even been hired. Think of the extra paperwork and legal hurdles a company can face during recruitment. Once the employee starts, the next challenge emerges; finding a connection with the rest of the team.' Curious to learn how to boost connection within your team, despite their differences? In our next blog, Sabine shares a number of tips on how to deal with cultural differences within the team.
How can we help you?
Is your company currently in a transition? Will the working language switch from Dutch to English in the near future? Are cultural differences in your workplace still underexposed? We've been guiding young professionals for over 15 years, including many young international professionals too. We would be happy to share our experience and help you tackle any challenges you might face.
Get in touch